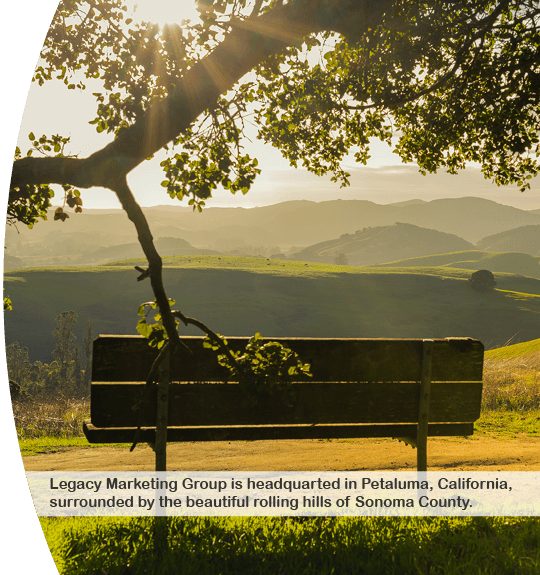 Legacy Marketing Group is headquartered in Petaluma, California, surrounded by the beautiful rolling hills of Sonoma County.
Who We Are
Legacy Marketing Group® exists to make a positive difference in people's lives. Our passion is to excel in everything we do, from delivering innovative financial products and solutions to creating exceptional customer experiences.
Legacy has been a trusted name in the industry for the last 27 years, generating nearly $20 billion in premium since its inception in 1993. Today, we are known as one of the most dynamic product development and marketing firms in the country—dedicated to excellence, integrity, and fairness.
We deliver on a firm commitment to provide outstanding products and services to our Independent Marketing Organizations (IMOs) and their Producers. We differentiate ourselves by offering a high-touch, full-service sales and marketing platform fueled by responsiveness and action.
Leadership
Legacy is led by a dedicated team of seasoned senior executives. Their passion for the industry, drive to deliver the latest innovations, and dedication to best-in-class service is what propels the company forward.


Chris Eaken


Vice President, Compliance and Administration
Chris Eaken, Vice President, Compliance and Administration
Chris oversees and ensures compliance of Legacy's marketing and product development initiatives, as well as licensing and contracting, and suitability. She works directly with our carriers to ensure Producers and IMOs receive exceptional service.
Her expertise and industry experience is invaluable when it comes to product and project implementation initiatives. With Legacy since its inception, Chris has a bachelor's degree in business administration from California State University, Fullerton, and holds FLMI, AIRC, AIAA and ACS designations from Life Office Management Association. She regularly participates in and attends industry compliance meetings. In addition, Chris holds Series 6, 26, 63, and 65 licenses.


Luba Losyev


Vice President, Technology
Luba Losyev, Vice President, Technology
Luba was at the forefront of infrastructure technology in Silicon Valley, which gives her a unique vantage point and provides Legacy an incredible advantage when it comes to all things technology. While leading her team of IT professionals, Luba fuses together technical capabilities and end user experiences to deliver best-in-class service platforms. Enhancements, maintenance, and production support for the company's technology infrastructure are just a few of the responsibilities that stem from Luba's stewardship. She has been with Legacy for 24 years and earned degrees in computer science and physics from Moscow State University.


Karen Obendorf


Director, Producer Sales and Promotions
Karen Obendorf, Director, Producer Sales and Promotions
Karen motivates and mentors not only the Marketing Field Support Team (MFS), but everyone else in the company. As leader of the MFS Team, Karen's expertise and enthusiasm keep the phones ringing. Her gift for communication, relationship building, and sales translates into Legacy's own triple threat. Karen thrives on crafting new and exciting sales and marketing initiatives for IMOs and Producers. Since Legacy's inception, she has held a number of senior management positions. Also known as the Fun Committee Chairman, she keeps our spirits soaring with her dedication and enthusiasm for the business.


Lynda Pitts


Founder, Chief Executive Officer
Lynda Pitts, Founder, Chief Executive Officer
Lynda began her career in the insurance industry more than 30 years ago, which gives her keen insight and expertise when it comes to developing and marketing exceptional products and trusted services. Early in her career, Lynda knew that more could be done to provide people with a sense of security during their retirement years, so she built Legacy.


Preston Pitts


President
Preston Pitts, President
Preston joined Legacy in 1994 and has been championing Lynda's vision, while providing steadfast leadership, ever since. His entrepreneurial mindset and big-picture way of thinking fosters a dynamic and fluid work environment that lends itself to innovation and excellence. He guides and influences the Legacy team to challenge industry norms, encourages creativity, and demands exceptional customer service.
Preston's experience spans over 30 years, and includes roles as a financial officer in the insurance industry and audit manager with the international accounting firm of Ernst & Young. He brings a deep passion and commitment to Legacy's mission. Preston also holds an FLMI and a CPA designation.


Amy Setikas


Vice President, Finance
Amy Setikas, Vice President, Finance
Amy has been practicing all facets of accounting for more than 20 years and earned a bachelor's degree in economics from Sonoma State University. She tackles many priorities here at Legacy and is always willing to step in and roll up her sleeves. Her team is responsible for Legacy's financial planning, banking relationships, commissions, and budget management. She's been with Legacy since 2006 and holds a CPA designation.


Niju Vaswani


Chief Marketing Officer
Niju Vaswani, Chief Marketing Officer
Niju is responsible for growing and nurturing our partner relationships to expand Legacy's product portfolio and marketplace share. Collaborating with carrier executives, he conceptualizes new and exciting ways to structure insurance products. His team relies on his infectious passion, enthusiasm, and deep insurance industry knowledge to help guide their thought process. Niju's contributions enable Legacy to remain an industry leader and innovator. He began his insurance career at MetLife in the company's executive training program for JDs and MBAs. Niju has a master's degree in business administration from Illinois State University and bachelor's and LLB (bachelor of laws) degrees from Gujarat University in India. He holds CLU, ChFC, and MBA designations.


Eric Williams


National Sales Leader
Eric Williams, National Sales Leader
Eric has been in the industry for more than 20 years, and his expertise and dedication are easy to detect. He's a seasoned sales executive who is responsible for developing Legacy's sales strategy, leading its regional and internal sales teams, and establishing and growing relationships with IMOs and Producers. As a former national account Vice President with John Hancock Life Insurance Co. (USA) and Regional Vice President with Allianz Life Insurance Co. of North America, Eric has developed a reputation as a skilled relationship builder. He has a degree in political science from the University of Minnesota and holds life, health, property, and casualty insurance licenses.
Chris Eaken,


Vice President, Compliance and Administration

>

Luba Losyev,


Vice President, Technology

>

Karen Obendorf,


Director, Producer Sales and Promotions

>

Lynda Pitts,


Founder, Chief Executive Officer

>

Preston Pitts,


President

>

Amy Setikas,


Vice President, Finance

>

Niju Vaswani,


Chief Marketing Officer

>

Eric Williams,


National Sales Leader

>
Working at Legacy
People are Legacy's greatest asset. We acknowledge and leverage individual differences. Our diversity and the broad wealth of knowledge that comes with such a workforce enable us to deliver excellent results and client service. Working at Legacy means you have a company that stands alongside you and behind you. We are conveniently located close to the 101 freeway in the beautiful town of Petaluma, California.
Interested in working at Legacy Marketing Group? Send us your resume and cover letter to jobs@legacynet.com.
Current Openings:
Business Systems Analyst
Web Developer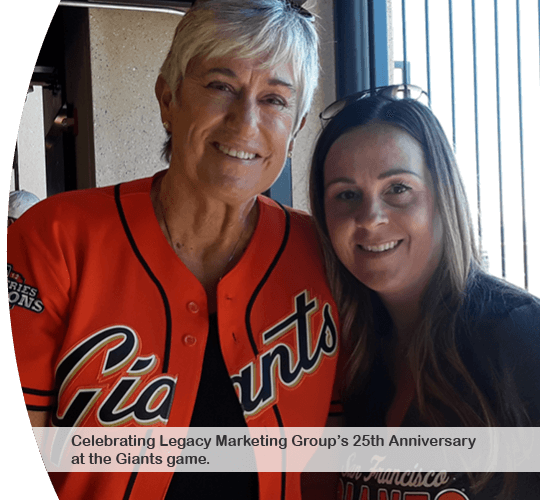 Celebrating Legacy Marketing Group's 25th Anniversary at the Giants game.
Legacy Marketing Group
5341 Old Redwood Highway, Suite 400
Petaluma, CA 94954
Sales Support Hours:
6:30 a.m. to 4:30 p.m., Pacific time
Phone:
800-395-1053, Ext 4002
Fax:
800-211-5641
Website:
www.legacynet.com
E-mail:
Marketing@legacynet.com
Legacy Marketing Group
dba: Legacy Marketing Insurance Services (CA Only)
5341 Old Redwood Highway, Suite 400
Petaluma, CA 94954
California Insurance License Number: OB 18033

DIRECTIONS: