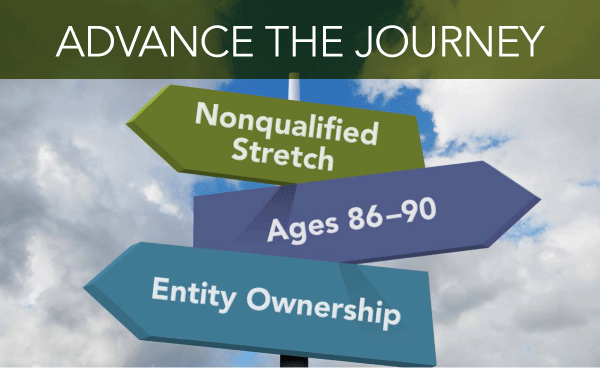 With advanced market sales opportunities, JourneyMark fixed indexed annuity products can help expand your business, not just shift it.

IRA and NQ
Inherited Annuity*
Features That May
Benefit Older Clients
Entity Ownership
Acceptance*

,

**

Post-death claim
strategies:

•
Inherited IRA.
•
NQ stretch.
•
Lump sum.
•
Annuitization.
•
Spousal
continuation.

Pre-planning
strategies:

•
Roth conversion.
•
Qualified charitable distribution.
•
IRA max.

JourneyMark 5:

•
Issues to ages
86–90.
•
Short, five-year duration.
•
Accumulation focused.
•
No rider charges.
•
Same great index options as 7-year product.
•
Penalty-free access after Year 1 to 5% of AV.

Non-natural owner:

•
Corporations.
•
Trusts.
•
501(c)(3).
•
Family limited
partnerships.
•
Defined benefit
plans.
Learn more about JourneyMark, issued by
Integrity Life Insurance Company, a proud member of
Western & Southern Financial Group.
---
Contact your IMO, or call the
Legacy Marketing Group

®

Sales Team today.

800-395-1053, Ext. 4002
JourneyMark is issued by Integrity Life Insurance Company

, Cincinnati, OH, which operates in DC and all states except NY. W&S Financial Group Distributors, Inc. (doing business as W&S Financial Insurance Services in CA) is an affiliated life insurance agency of the issuer. All companies are members of Western & Southern Financial Group. For use with Modified Single Premium Deferred Annuity Contract With Indexed Interest Options and Market Value Adjustment Feature series ICC20 INT-17 2004, ICC20 IR.39 GLWB 2004, ICC20 IR.40 ELG 2004, ICC20 IR.41 AB 2004, ICC20 IR.42 2004 WWC, ICC20 IE.47 SI-OY-PTP 2004, ICC20 IE.46 SI-MY-PTP 2004, ICC20 IE.48 SI-MY-HWM 2004. Product and feature availability, as well as benefit provisions, vary by state. JourneyMark products are designed and exclusively marketed by Legacy Marketing Group, an independent agency. JourneyMark is a registered service mark of Legacy Marketing Group. Issuer has sole financial responsibility for its products.
Earnings and pre-tax payments are subject to ordinary income tax at withdrawal. Withdrawals may be subject to charges. Withdrawals of taxable amounts from an annuity are subject to ordinary income tax, and, if taken before age 59½, may be subject to a 10% IRS penalty.
| | |
| --- | --- |
| * | Refer to the Funding Acceptance Chart for details. |
| ** | Entity ownership could have tax consequences. Please advise your customer to contact their tax or legal advisor regarding their situation. |
No bank guarantee.

•

Not a deposit.

•

May lose value.

•

Not FDIC/NCUA insured.

•

Not insured by any federal government agency.
| | | | | |
| --- | --- | --- | --- | --- |
| WS1047v0323 | | FOR AGENT USE ONLY. NOT FOR USE WITH CONSUMERS. | | |