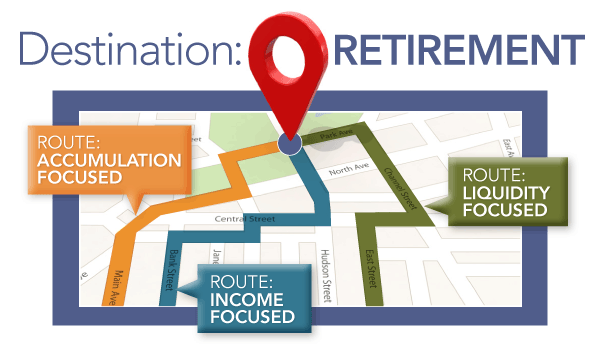 Like a GPS shows different routes to the same destination, a JourneyMark

sm

fixed indexed annuity from Integrity Life Insurance Company can help you chart a customized course to retirement. Watch the video to see how JourneyMark's distinctive structure makes this possible.
To learn more or discuss your retirement-planning
needs, contact me today.
Complete an Ad Approval Form, and your info can appear here.
Questions? Contact your IMO, or call the Legacy Marketing Group

®

Sales Team at 800-395-1053, Ext. 4002.
JourneyMark is issued by Integrity Life Insurance Company,

Cincinnati, OH, which operates in DC and all states except NY. Product and feature availability, as well as benefit provisions, vary by state. See your financial professional for details and limitations. For use with Modified Single Premium Deferred Annuity Contract With Indexed Interest Options and Market Value Adjustment Feature series ICC20 INT-17 2004, ICC20 IR.39 GLWB 2004, ICC20 IR.40 ELG 2004, ICC20 IR.41 AB 2004, ICC20 IR.42 2004 WWC, ICC20 IE.47 SI-OY-PTP 2004, ICC20 IE.46 SI-MY-PTP 2004, ICC20 IE.48 SI-MY-HWM 2004.
W&S Financial Group Distributors, Inc. (doing business as W&S Financial Insurance Services in CA) is an affiliated life insurance agency of the issuer. Both companies are members of Western & Southern Financial Group. JourneyMark products are designed and exclusively marketed by Legacy Marketing Group

®

, an independent agency. JourneyMark is a service mark of Legacy Marketing Group. Issuer has sole financial responsibility for its products. Payment of benefits under this annuity contract is the obligation of, and is guaranteed by, the insurance company issuing the annuity. Guarantees are based on the claims-paying ability of the insurance company. Products are backed by the full financial strength of Integrity.
Withdrawals of taxable amounts from an annuity are subject to ordinary income tax, and, if taken before age 59½, may be subject to a 10% IRS penalty.
No bank guarantee.

•

Not a deposit.

•

May lose value.

•

Not FDIC/NCUA insured.

•

Not insured by any federal government agency.