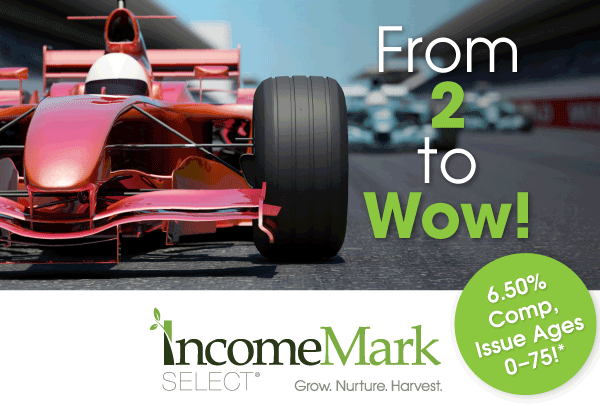 Start with strong earnings potential and a 2% guaranteed roll-up.
Add 250% crediting of policy gains to the benefit base, and you've got an income opportunity that will leave you saying "Wow!"
It all adds up with the

IncomeMark Select

fixed index annuity, Legacy's performance-driven income product from Ameritas Life Insurance Corp.
Powered by the strong growth potential of multiple index options— including two based on an index that tracks companies at the forefront of innovation—this FIA's layered roll-up helps fuel your clients' payout potential.
MyGrowth Income Rider

sm

** Hypothetical Example

†
$100K premium, 60-year-old male, 10-year income deferral, level payout option
= $16,934 annual payout
WE DARE YOU TO COMPARE!

For more information, call the Legacy Marketing Group

®


Sales Team, 800-395-1053, Ext. 4002.
In approved states, IncomeMark Select Index Annuities (Form 2705 with 2705-B-IMS-SCH or 2705-L-IMS-SCH) and riders are issued by Ameritas Life Insurance Corp. (Ameritas) located at 5900 O Street, Lincoln, NE 68510. Products are designed in conjunction with Ameritas and exclusively marketed by Legacy Marketing Group. Ameritas and Legacy Marketing Group are separate, independent entities. IncomeMark Select Index Annuities are single premium deferred annuities that offer a fixed interest option and index interest options. The index options are not securities. Keep in mind, your clients are not participating in the market or investing in any stock or bond. Policies, index strategies, and riders may vary and may not be available in all states. Optional features and riders may have limitations, restrictions, and additional charges. Product guarantees are based on the claims-paying ability of Ameritas Life Insurance Corp. Refer to brochures for additional details. IncomeMark Select is a registered service mark, and MyGrowth Income Rider is a service mark, of Legacy Marketing Group. Unless otherwise specified, any person or entity referenced herein is not an affiliate of Ameritas or any of its affiliates.
The US Innovative Leaders 5 Index (launched on 1/28/2020) is a new index with limited historical information.

For index information, visit https://innovativeleaders.bnpparibas.com. The US Innovative Leaders 5 Index (a "BNPP Index") is the exclusive property of BNP Paribas or one of its affiliates (BNP Paribas and its affiliates are hereinafter referred to as "BNPP"). The BNP Paribas Index is determined, composed and calculated by BNPP. "BNP", "BNPP", "BNP Paribas", and "US Innovative Leaders 5 Index" (collectively, the "BNPP Marks") are trademarks or service marks of BNPP and are licensed by Ameritas Life Insurance Corp. (the "Company") for use in a fixed indexed annuity (the "Company Product") offered by the Company. The Company Product is not, in whole or in part, sponsored, structured, priced, endorsed, offered, sold, issued or promoted by BNPP or any third party licensor of information to BNPP. BNPP's only relationship to the Company is the licensing of the BNPP Index and the BNPP Marks for certain purposes as well as acting as a hedge provider to the Company with respect to the Company Product. BNPP shall not have any liability with respect to a Company Product, and is not liable for any loss relating to the Company Product, whether arising directly or indirectly from the use of the BNPP Index, its methodology, any third party information used in the BNPP Index or its methodology, any BNPP Mark or otherwise. BNPP and any third party licensor of information to BNPP make no representations or warranties regarding the Company Product.
Withdrawals may be taxable and, if taken prior to age 59½, a 10% penalty tax may also apply. The information presented here is not intended as tax or other legal advice. For application of this information to your client's specific situation, your client should consult an attorney.
*
At the GA level. See

Compensation Schedule

for details.
**
Included for a current annual charge of 0.95% for the MyGrowth Income Rider and 1.05% for the MyGrowth Income Rider With Booster (not available in all states).
†

Hypothetical example

assumes 60-year-old male, $100,000 starting value, 100% allocated to the US Innovative Leaders 5 Index Two-Year Point-to-Point With Participation Rate for the last 10 years (1/1/2011–12/31/2020) with a 125% participation rate, no withdrawals, no step-up, a current 2% compound Premium Accumulation Rate for 10 years, a current 250% interest credit multiplier for 10 years, Single Life option, Level Payout Option, and 0.95% annual rider charge. Participation rate is effective April 5, 2021, and subject to change. Hypothetical examples are not reflective of actual annuity performance. Past performance, whether actual or hypothetical, does not guarantee future results. Actual results may vary. Multi-year index options are not available in all states.
| | | | | |
| --- | --- | --- | --- | --- |
| AL1238v0321 | | FOR AGENT USE ONLY. NOT FOR USE WITH CONSUMERS. | | |