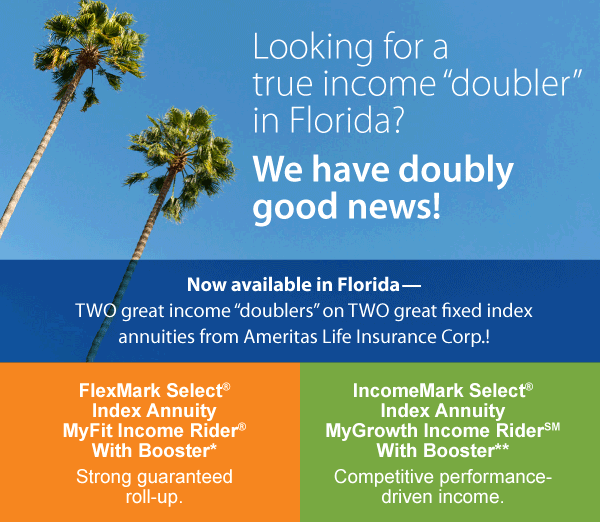 Both FIAs are backed by "A" rated Ameritas,

†

feature the same competitive index strategies, and offer the same income "doubler" upgrade that:
•
Doubles income for inability to perform two of six activities of daily living.

††

•
Permits care anywhere, including at home—allowing clients to age in place.
•
Is available for single

and

joint annuitants.

§

•
Costs only 10 bps more than the base income rider.
•
Continues boosted payments until the accumulation value reaches zero.

§§

To learn when you might recommend one FIA
over the other, watch a replay of the "Align
Your Income Conversation" webinar, or call the
Legacy Marketing Group

®

Sales Team at
800-395-1053, Ext. 4002, or your IMO.
In approved states, FlexMark Select Index Annuities (Form 2705 with 2705-SCH or 2705-SCH-L) and IncomeMark Select Index Annuities (Form 2705 with 2705-B-IMS-SCH or 2705-L-IMS-SCH) and riders are issued by Ameritas Life Insurance Corp. (Ameritas) located at 5900 O Street, Lincoln, NE 68510. Products are designed in conjunction with Ameritas and exclusively marketed by Legacy Marketing Group. Ameritas and Legacy Marketing Group are separate, independent entities. FlexMark Select and IncomeMark Select Index Annuities are single premium deferred annuities that offer a fixed interest option and index interest options. The index options are not securities. Keep in mind, your clients are not participating in the market or investing in any stock or bond. Policies, index strategies, and riders may vary and may not be available in all states. Optional features and riders may have limitations, restrictions, and additional charges. Product guarantees are based on the claims-paying ability of Ameritas Life Insurance Corp. Refer to brochures for additional details. FlexMark Select, IncomeMark Select, and MyFit Income Rider are registered service marks, and MyGrowth Income Rider is a service mark, of Legacy Marketing Group. Unless otherwise specified, any person or entity referenced herein is not an affiliate of Ameritas or any of its affiliates.
GLWB riders are not available with certain tax-qualified plan types.
Withdrawals may be taxable and, if taken prior to age 59½, a 10% penalty tax may also apply. The information presented here is not intended as tax or other legal advice. For application of this information to your client's specific situation, your client should consult an attorney.
| | |
| --- | --- |
| * | Available for a current annual charge of 1.25% for the MyFit Income Rider With Booster. |
| ** | Available for a current annual charge of 1.05% for the MyGrowth Income Rider With Booster. |
| † | A (Excellent) for insurer financial strength. This is the third highest of AM Best's 13 ratings. Rating as of 4/2/2020. Ameritas Mutual Holding Company's ratings include Ameritas Life Insurance Corp. and Ameritas Life Insurance Corp. of New York. |
| †† | Available after the second contract year. Annual requalification is required. |
| § | May be activated once by each covered person. |
| §§ | After the accumulation value reaches zero, the payout will revert to the "non-boosted" standard amount and the guaranteed phase will be initiated. |
| | | | | |
| --- | --- | --- | --- | --- |
| AL1231v0221 | | FOR AGENT USE ONLY. NOT FOR USE WITH CONSUMERS. | | |