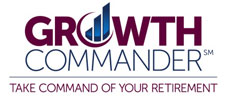 Growth Commander Minimum Guarantee Changing to 3% on 87.5% of Premium in South Dakota
The temporary 2.45% on 100% minimum guarantee on Growth Commander fixed indexed annuities from Americo Financial Life and Annuity Insurance Company is coming to a close.

Effective with applications signed on or after January 23, 2023

, the new Guaranteed Minimum Value will be 87.5% of premium, minus any gross withdrawals and applicable premium tax, plus interest credited at the Guaranteed Minimum Value Interest Rate (GMVIR). The GMVIR, which can range from 1% to 3% in SD, will be 3%, subject to change quarterly.
DEADLINE TO RECEIVE 2.45% ON 100% MINIMUM GUARANTEE

—To receive Growth Commander FIAs with the 2.45% on 100% minimum guarantee, applications must be signed between

January 1 and January 22, 2023, and received by Americo's administrative office on or before 5 p.m., Central time, Tuesday, January 31, 2023

.

NOTE:

Applications not meeting these deadlines will receive the updated product with a minimum guarantee on 87.5% of premium.
UPDATED DISCLOSURE DOCUMENT

—An updated annuity disclosure document will be available January 23, 2023, on FireLight

®

and is

required for applications signed on and after January 23, 2023

. Avoid new business and commission delays by ensuring the most current forms, including the updated disclosure document, are used, and please discard any older versions you may have.
To access FireLight, log in to www.GrowthCommanderFIA.com.
Questions?

Please contact your IMO.
Growth Commander Forms:

Series 319, 2508. Products are single premium deferred fixed indexed annuities underwritten by Americo Financial Life and Annuity Insurance Company (Americo), Kansas City, MO, and may vary in accordance with state laws. Some products and benefits may not be available in all states. Certain restrictions and variations apply. Consult contract and riders for all limitations and exclusions.
AF1615v0123
22-600-34 (01/23)
FOR AGENT USE ONLY. NOT FOR USE WITH CONSUMERS.