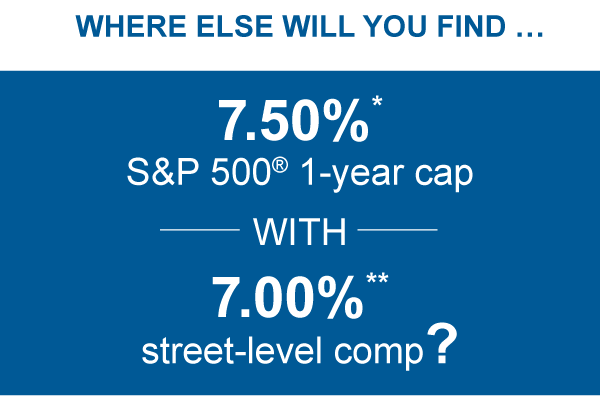 Lock in one of the


INDUSTRY'S HIGHEST CAPS


while it lasts.
Call us for details.


800-395-1053, Ext. 4002

LibertyMark

®

7, 10, 10 LT, SE 7, SE 10, SE 10 LT (Contract Series 411/4196/4205); LibertyMark 7 Plus, SE 7 Plus (Contract Series 411/4191/4196/4205); LibertyMark 10 Plus, 10 LT Plus, SE 10 Plus, SE 10 LT Plus (Contract Series 411/4179/4196/4205). Products are single premium deferred fixed indexed annuities underwritten by Americo Financial Life and Annuity Insurance Company (Americo), Kansas City, MO, and may vary in accordance with state laws. Products are designed and exclusively marketed by Legacy Marketing Group

®

. Some products and benefits may not be available in all states. Certain restrictions and variations apply. Consult contract and riders for all limitations and exclusions. Legacy Marketing Group and any licensed insurance agent/agency shown on this ad are independent, authorized agents/agencies of Americo. The Liberty Optimizer administrative fee of 1.00–1.75% (depending on the product version selected) will be deducted from the Accumulation Value at the end of each contract year, including the first. LibertyMark is a registered service mark of Legacy Marketing Group.
*
Rate on LibertyMark SE 10 and SE 10 LT effective July 29, 2021, and subject to change.
**
On LibertyMark SE 10 and SE 10 LT. See

Compensation Schedule

for details.
AF1534v0721
20-634-1 (07/21)
FOR AGENT USE ONLY. NOT FOR USE WITH CONSUMERS.