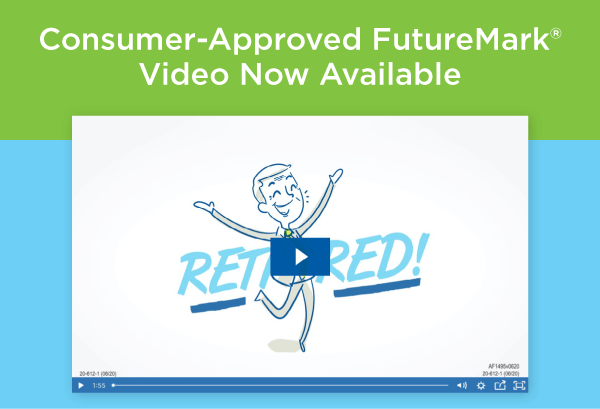 "I've worked hard to save for the future, but I feel guilty about using my money to enjoy retirement instead of leaving it for my loved ones."
Sound familiar?
Watch this two-minute consumer video to find out how clients can take withdrawals from their retirement savings and still leave a significant death benefit to their beneficiaries.
Want more videos?
Visit the Legacy Video Library on LegacyNet

®

.
FutureMark 10, 10 LT (Contract Series 416/4416). BeneBooster

sm

guaranteed minimum death benefit rider (Rider Series 2182). Products are single premium deferred fixed indexed annuities underwritten by Americo Financial Life and Annuity Insurance Company (Americo), Kansas City, MO, and may vary in accordance with state laws. Products are designed and exclusively marketed by Legacy Marketing Group

®

. Some products and benefits may not be available in all states. Certain restrictions and variations apply. Consult contract and riders for all limitations and exclusions. Legacy Marketing Group and any licensed insurance agent/agency shown on this ad are independent, authorized agents/agencies of Americo. The Optimizer administrative fee of 1.00% will be deducted from the Accumulation Value at the end of each contract year, including the first. FutureMark is a registered service mark, and BeneBooster is a service mark, of Legacy Marketing Group.
Withdrawals may be subject to ordinary income tax, and a 10% IRS penalty may apply to withdrawals taken before age 59½.
AF1504v0820
20-619-1 (08/20)
FOR AGENT USE ONLY. NOT FOR USE WITH CONSUMERS.