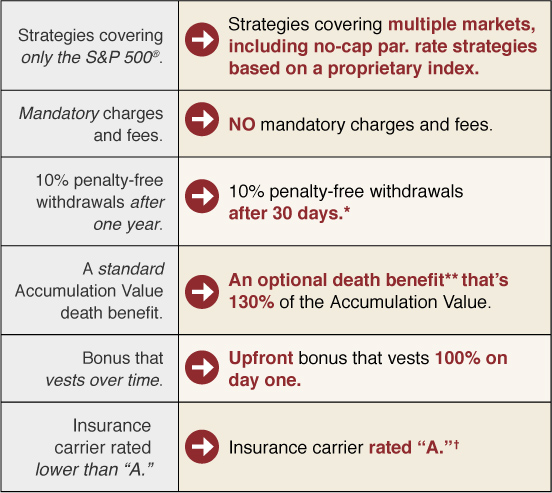 ClassicMark

®

fixed indexed annuities help you eliminate objections while allowing clients to maximize their earnings and build a worry-free retirement.

For more information, call the Legacy Marketing Group

®

Sales Team at 800-395-1053, Ext. 4002, or your Legacy IMO.
ClassicMark Forms:

Series 411, 4204, 2181. AAA411 LG10 (12/22), AAA411 LG86+ (12/22), AAA411 LG10B (12/22), AAA4204, AAA2181; ICC22 411 LG10, ICC22 411 LG86+, ICC22 411 LG10B, ICC19 4204. Products are single premium deferred fixed indexed annuities underwritten by Americo Financial Life and Annuity Insurance Company (Americo), Kansas City, MO, and may vary in accordance with state laws. Products are designed and exclusively marketed by Legacy Marketing Group. Some products and benefits may not be available in all states. Certain restrictions and variations apply. Consult contract and riders for all limitations and exclusions. Legacy Marketing Group and any licensed insurance agent/agency shown on this ad are independent, authorized agents/agencies of Americo. ClassicMark is a registered service mark, and Heritage Maximizer is a service mark, of Legacy Marketing Group.
*
Withdrawals may be subject to ordinary income tax, and a 10% IRS penalty may apply to withdrawals taken before age 59½.
**
The Heritage Maximizer

sm

enhanced death benefit rider is available for a 0.30% annual charge to issue ages 0–75. The benefit becomes eligible for payout three years after the rider effective date. Additional restrictions apply. Not available in MO, NJ, OH, PA, UT, and WA.
†
Rating for Americo Financial Life and Annuity Insurance Company (Americo), October 2021. Americo Financial Life and Annuity Insurance Company has a financial strength rating of A (Excellent, 3rd out of 15 rating categories). AM Best's rating is assigned after a comprehensive quantitative and qualitative evaluation of a company's balance sheet strength, operating performance, and business profile. AM Best uses a scale of 15 ratings, ranging from "A++" to "F".
AF1318v1222
18-610-1 (12/22)
FOR AGENT USE ONLY. NOT FOR USE WITH CONSUMERS.